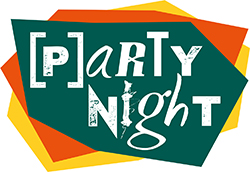 Sinds 2009 organiseren we de XL Night, een gezellige terugkomavond voor de oud-leerlingen van het Sint-Franciscuscollege. In 2014 hebben we onze krachten gebundeld met het CC Muze en het evenement opengesteld voor een bredere groep. Samen zorgen we ervoor dat je als oud-leerling of sympathisant een avond kunt beleven in een stijlvol kader met een culturele touch, onder de noemer "(p)Arty Night".
Dit jaar spannen we ook weer samen met het nationale event "Lokale Helden" (georganiseerd door Poppunt), dat jonge artiesten van eigen bodem letterlijk een podium biedt. We hebben al enkele veelbelovende inschrijvingen, dus de opwarming voor onze terugkomavond zit alvast snor (verder info hierover volgt). Vanaf 22u30 zorgt de dj voor de perfecte beats om jouw topavond te begeleiden. Hét ideale moment dus voor een gezellige babbel met oud-leerlingen, (oud)-leerkrachten en andere bekende gezichten. Of geniet je liever van een lekkere cava of gin-tonic, terwijl je de sfeer opsnuift op onze tiende (p)Arty Night? Het kan allemaal, the night is yours!
De toegang tot (p)Arty Night 2018 is gratis, maar we vragen om organisatorische redenen wel om op voorhand in te schrijven.
Later hier meer informatie over!
Tot dan!
PRAKTISCHE INFORMATIE:
Datum: vrijdag 27 april 2018
Optredens lokale helden: 19u-22u
http://www.facebook.com/xlnightsfc of zoeken naar XL Night SFC
Receptie: vanaf 21u30
Aanvang fuif: 22u30 (einde 03u)